Note: Smart Reports offer filter options so that you can tailor your training data to match your needs. The filter and column panel provides a way to manage this information. This allows you to interact with the data using filters to see specific results. The available options will change based on the report being retrieved.
Training records are refreshed in Manager every 24 hours. Reporting pulled may not reflect training facilitated within the previous 24 hours.
Report Settings
To expand the setting options, select the disclosure triangle to the right of FILTER or COLUMN.
Filters Panel
Adjust the filters by selecting or de-selecting the boxes and/or choosing from the menus. For detailed instruction on filters for each report type, see Learning Plan Progress Report or Training Records Report.

To close report settings, select the X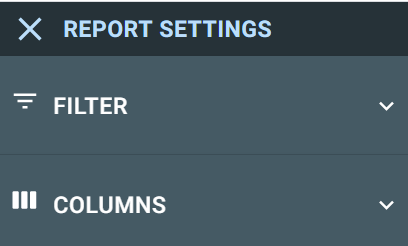 Columns Settings
Adjust the columns visible on the reporting table. To add or remove columns visible in your report, select the check box to the right of the column name. To reorder columns, drag and drop the 6-dot icon to the left of the column title.

For a full list of columns for each report, see Manager: Reports > Training Records Report or Manager: Reports > Learning Plan Progress Report
Download Reports
To download the flexible report, select the download button at the top right of the table. This will provide the option to download the table as an Excel spreadsheet.
Important: downloading large sets of data may take an extended amount of time. Wait until the file has begun downloading before you navigate to another page, as this will cancel the download process.