Note: There are two types of Observations, Alchemy and Company Specific. The editing processes are very similar, this article discusses both.
Copy and Edit an Alchemy Observation
Alchemy Observations can be duplicated and the copy can be edited to become a Company Specific Observation. Note that the original Observation cannot be edited and will remain in the Observation Library.
Navigate to Activities>Observations
Find the Alchemy Observation you wish to copy and click COPY
Edit and/or select the required fields for the General Information and click SAVE
Next to the Draft Observation click EDIT
See the section below titled "Edit the Observation" for the next steps
Copy and Edit a Company Specific Observation
Company Specific Observations can be edited and saved. When an Observation is "edited", a new draft is created to be edited and the older version is automatically archived.
Navigate to Activities>Observations
Find the Company Specific Observation to alter and click EDIT
Click COPY TO DRAFT under the Published Observation
Click EDIT next to the Draft Observation
See the section below titled "Edit the Observation" for the next steps
Edit the Observation
If not already displayed, select the PROPERTIES tab
Edit the Observation Properties as needed
When complete, select SAVE
To edit questions and sections, select the QUESTIONS tab
Add new sections or new questions as needed
Edit section names as needed by clicking on the section title
Edit the question by clicking on the question
Edit questions, question notes, and answers as needed

The question type cannot be edited. If you wish to change this, delete the question and add it again as a different question type
When satisfied with edited questions and sections, click PUBLISH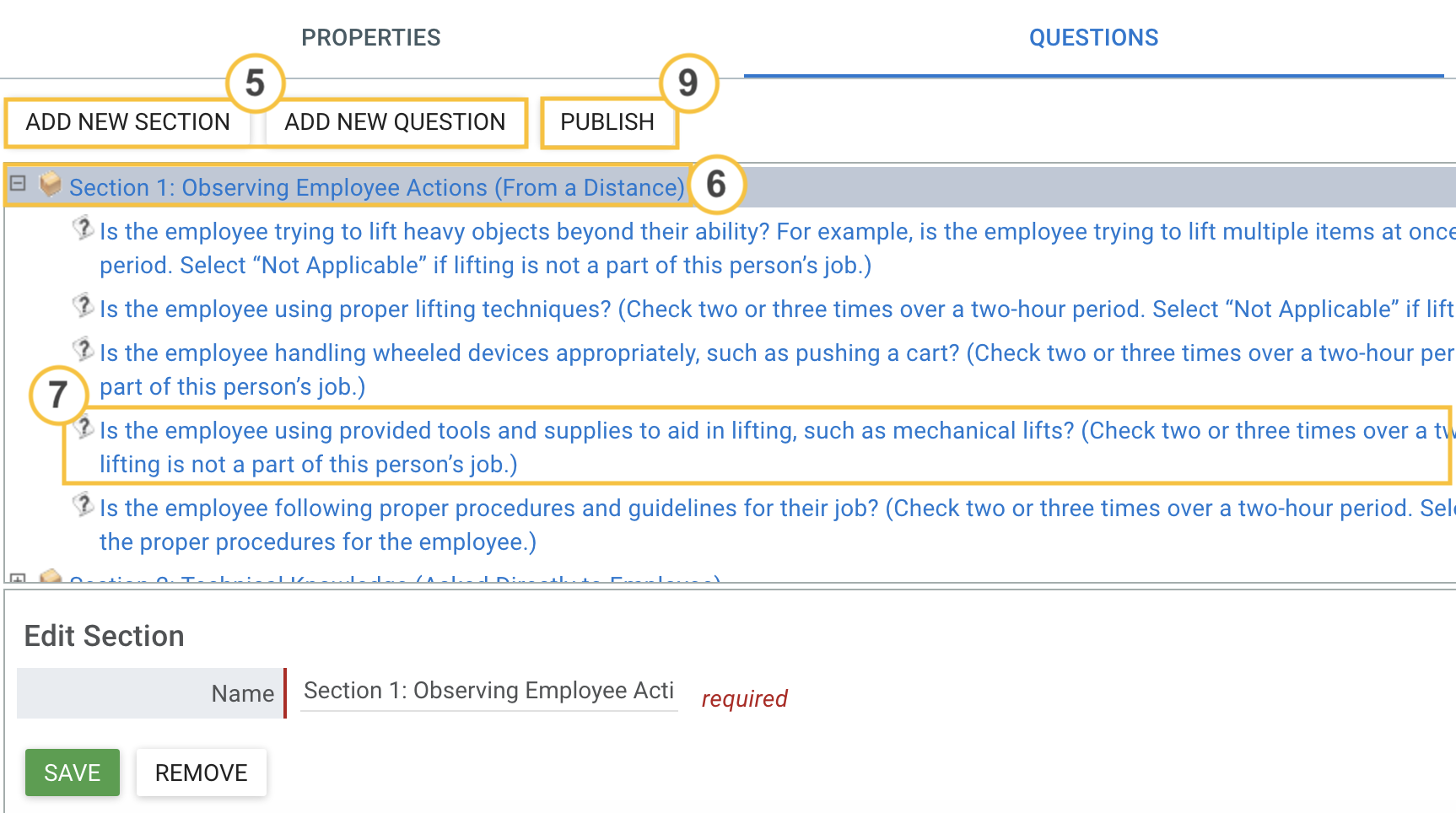 Use the Observation in Coach
Sign into Coach on your mobile device
SYNC the device with Manager
Choose a user in your worksite
Select the Observation that you created
Conduct the Observation
SYNC with Manager