Alchemy Culture Kit provides customers with a variety of materials to choose from. These materials can be used as is, or they can be edited to meet your company-specific needs.
As a reminder, Alchemy Culture Kit Materials include:
• Self-printed posters in multiple sizes
• Looping videos, perfect for breakrooms
• Dozens of topics reinforcing Alchemy training courses
• Easy customization features to add company logo, images, etc.
• Convenient access of all materials through Alchemy Manager
How To Edit Your Materials
Please be aware that only certain file types can be edited. These instructions can also be found in the Alchemy Culture Kit eLearning module under their respective tab (Posters & Digital Signs).
Customizing Options: Posters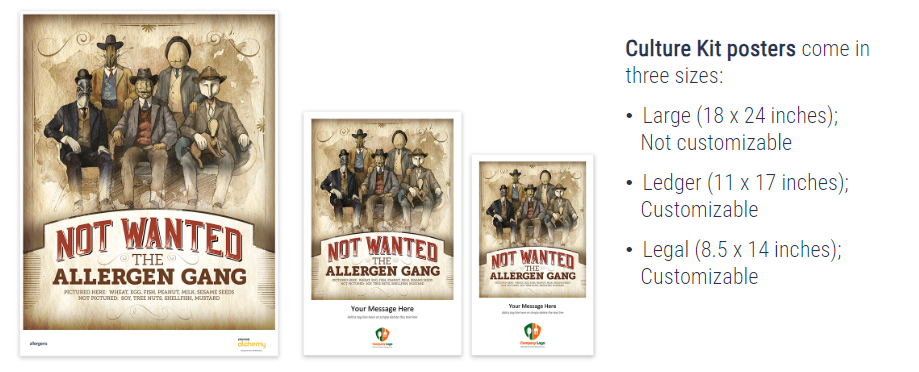 To customize the ledger-sized (11 x 17 inches) and legal-sized (8.5 x 14 inches) posters, you have the option of editing the text below the picture and adding your company logo.
Instructions:
Download the Microsoft Word file of the poster you wish to print in the appropriate language.
Add your custom message (font is currently set to Calibri).
Add your company logo. If unavailable, just delete the place-holder.
Print to your office printer.
(Note: There are no customizing options for large posters.)
Customizing Options: Digital Signs
What's Included in a Digital Signs File?
Digital Signs for each topic come in two separate files.
One is an editable PowerPoint file:
PPTX (Editable PowerPoint slides)
The other is a zipped file that includes three ready-to-play file formats:
PPSX (PowerPoint Show)
JPGs (A folder of 10 pictures, one for each of the slides)
MP4 (Auto-play video file)
Sample of PowerPoint (pptx) thumbnails

Note that you will only be able to customize editable PowerPoint Files (pptx)
Follow these steps to add/edit your own company-specific slides.
On the Home tab in Normal view, go to Layout and click the small Layout Icon.
Select one of the six layouts that best suits the content of your slide.
To add an image:
• Click the little picture icon, or simply drag an image from your desktop onto the empty picture box.
• To change a picture, right click on the image and select Change Picture.
Click the text box and add your message.
Format the text to best fit the slide design.
Go to the Transitions menu, make sure Push is selected and that PowerPoint moves to the next slide after 12:00 seconds.
Export to MP4 - (Presentation Quality, 1920 x 1080,12 seconds timing) or Save As a PowerPoint Show (pptx).