Note: Add your own SCORM content to Manager for use in eLearning. Alchemy supports SCORM courses created outside of the Alchemy platform including AICC courses, these files are easy to upload and use in eLearning.
Before uploading the course to Alchemy, make sure your course is set with definite pass or fail settings. To verify that Manager recognizes the pass and fail settings, always test your course before making it available to users.
Once you've created, published and tested your content with a SCORM authoring tool, log into your Manager website with your User ID and Password, and then follow these directions.
Create Course
Navigate to Activities and select Courses
Select the "+" button to create a new course

In the course format menu select Company-Specific (eLearning) file


Fill in ALL required fields.
Select the course upload type, then Select File and choose the zipped files

Upload SCORM content file

Zipped file that was created with your eLearning authoring tool such a (such as Articulate, Captivate, iSpring, AICC)

Upload AICC content file

Zipped file that is download from a third party online on-demand library (such as LinkedIn Learning)

Optional fields:

Link to existing parent course (Recommended to leave "Create a new course parent")
Course Notes

Course description
Course competencies
External ID

Select Add

Playing a Company Specific eLearning (SCORM) Course in eLearning
After logging into your Manager website, select your name in the upper right hand corner of the Manager home page and select eLearning

Select Course Catalog
Using the Search field, type in the name of the desired course
Once located, select the play icon to the left of the course

If you've uploaded an AICC course from an online on-demand library (such as LinkedIn Learning) you will be need to have existing access to the platform. Contact your company's administrator if you do not have access.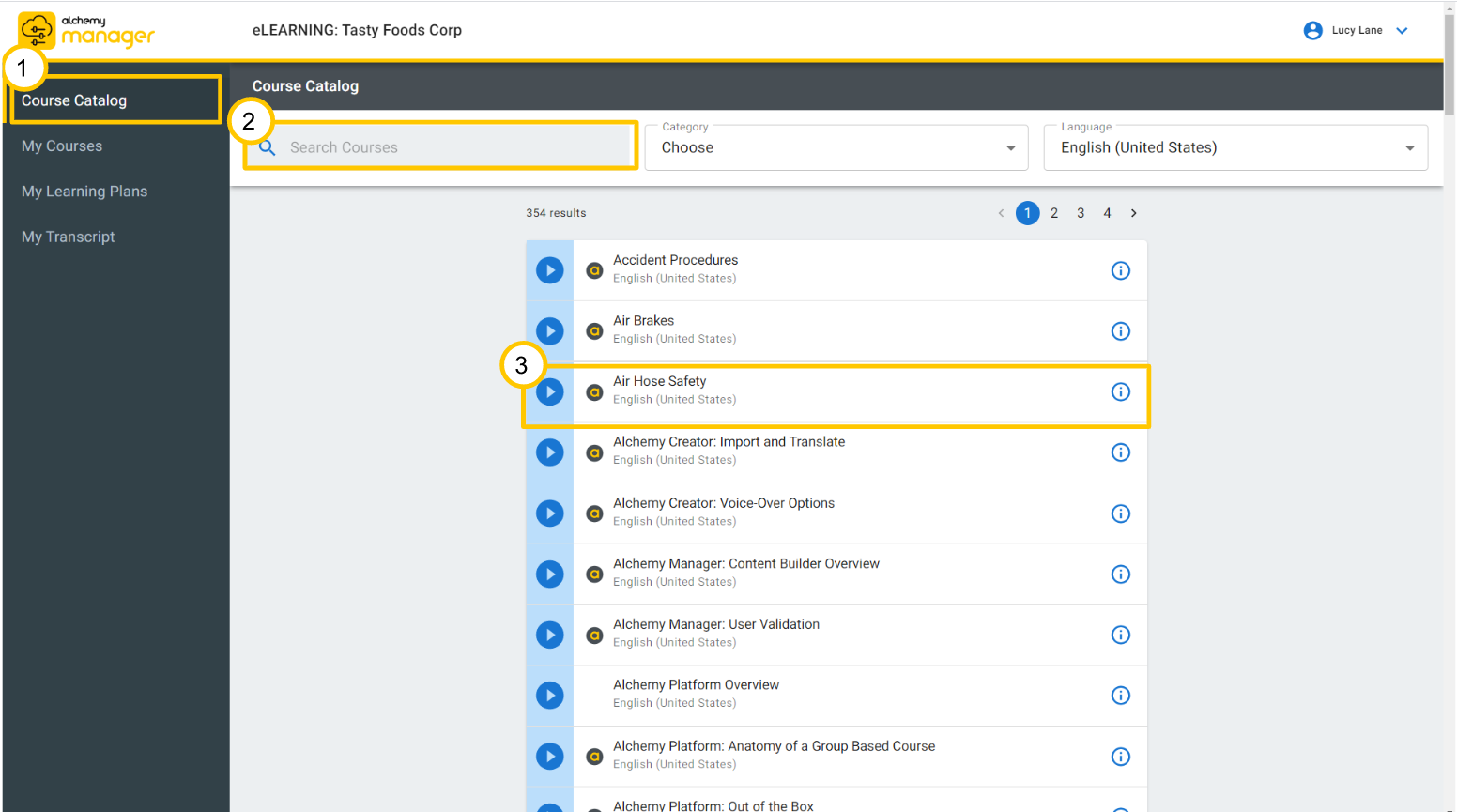 Tip: Validate your training sessions by linking a Test or Evaluation to your course.